Brantford Pest offers spider extermination service in Brantford, Ontario. If you are experiencing spider issues, give us a call today to schedule your free pest inspection. When it comes to scary bugs, spiders are typically at the top of the list. Brantford is home to a diverse number of spider species, from black widows to wolf spiders. It can be very difficult to keep spiders out of your home without professional treatment.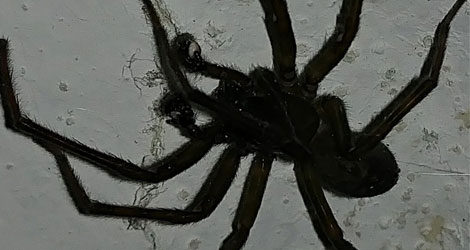 They can easily get inside your home or office through small openings and they are naturally good at hiding and disguising themselves. If you believe that your home or property is being invaded with spiders, call our spider control and removal services in Brantford right away. Our licensed, insured and bonded professionals are well-equipped to resolve the pest issue quickly and efficiently.
Types of Spider We Remove
Black Widow Spiders
Brown Recluse Spiders
Common Household Spiders
Jumping Spiders
Long-bodied Cellar Spiders
Wolf Spiders
Spider Extermination & Control Services We Offer
In addition to being a knowledgeable resource on spiders, we offer a long list of services to ensure your home or office is safe and pest free. Including:
Unparalleled pest control services and customer satisfaction.
Knowledgeable and industry certified technicians to handle the spider infestation issue.
Certified environmentally friendly by pest industry authorities.
Proven strategies to remove and control spider infestations, with a guarantee to back this up.
Expert advice on how best to deal with your specific spider problem.
With our professionally trained and certified technicians, state-of-the-art tools, and wealth of experience and expertise, you don't have to worry about the protection of your family, home and business.
Superior Service Guarantee
Quality service is a top priority for our company. Performance evaluations and close monitoring of our service ensures that we are meeting your expectations. We practice safe spider pest control methods, whether it be through the use of spider repellent, spider traps or spider spray. Our methods are effective and safe for your family and pets. No matter whether it's a black widow spider or jumping spiders, we will prevent them in a timely and professional manner.